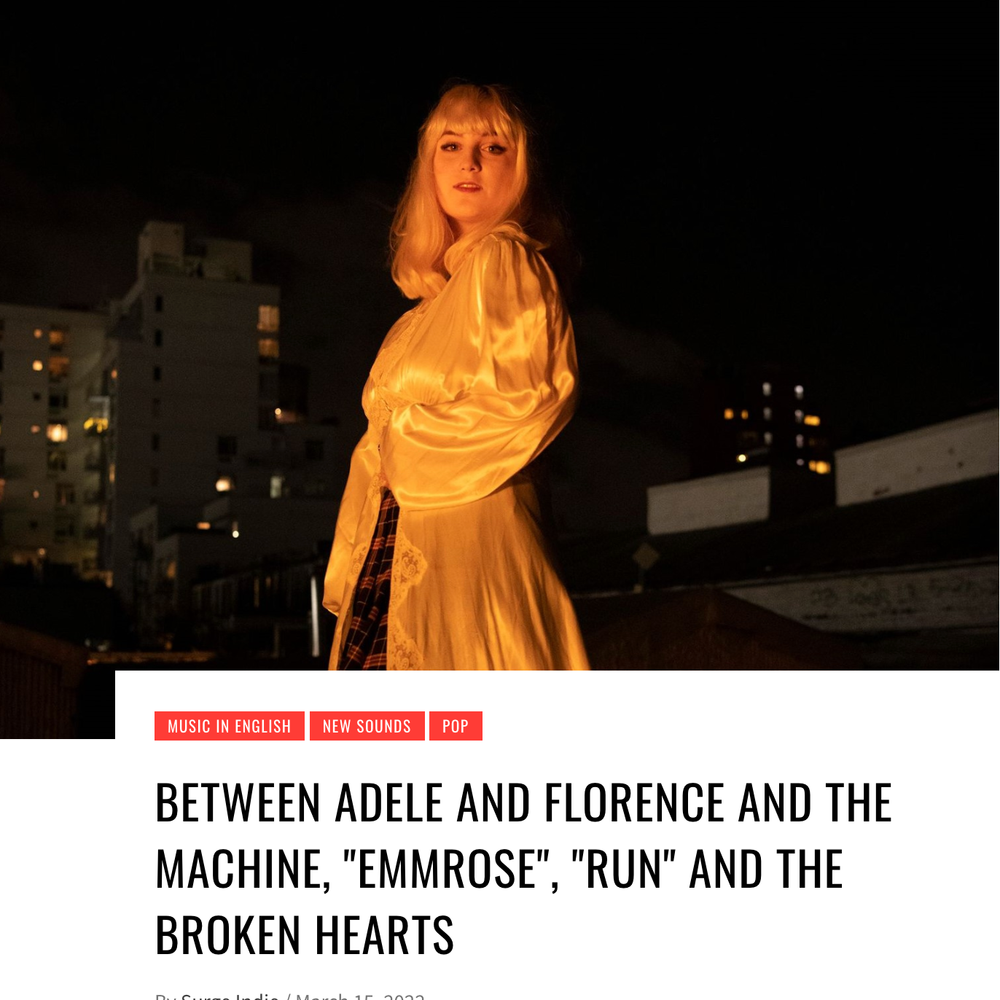 BETWEEN ADELE AND FLORENCE AND THE MACHINE, "EMMROSE", "RUN" AND THE BROKEN HEARTS
By Surge Indie / March 15, 2022
Emmrose is an eighteen-year-old songwriter who in 2020 presented us with her EP "Hopeless Romantics" , even making it to MTV 's Teen Mom .
His universe is between Adele and Florence and the Machine, between classic minimalist pop and progressive folk, with soulful melodies and sparkling energy.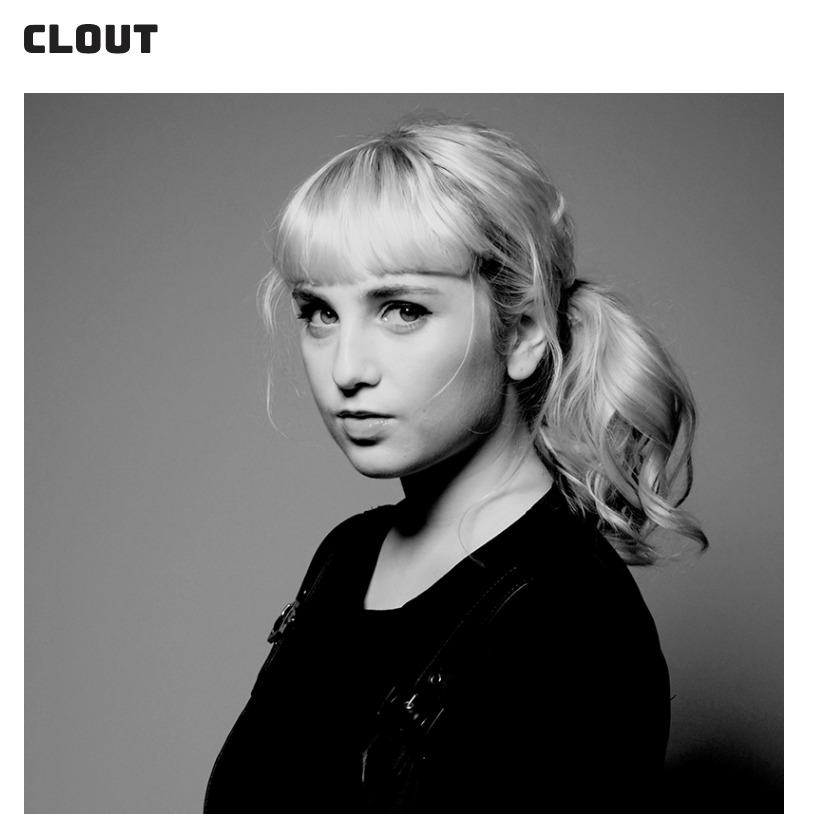 "Run" URGES PEOPLE TRAPPED IN ABUSIVE RELATIONSHIPS TO SET THEMSELVES FREE.
Emmrose has been an artist who has been on our radar for a while now, and her thoughtful and powerful brand of indie pop makes her an easy person to root for.
The latest addition to her catalogue is the empowering new release 'Run'. An anthem for anybody who is or has been trapped in toxic or abusive relationships. There is a heightened sense of intensity both within the music and the lyrics that really establishes this sense of urgency and immediacy, imploring people to take their power back and do it now. The track itself is a rousing and engaging listen, boasting a synth-heavy, electronic sound that feels as captivating and memorable as it does cathartic.
"Run" was such an empowering song to write. I wanted to create a break-up anthem for anyone who had been through or was currently in an abusive relationship. I wanted "Run" to be inspiring for my listeners by bringing awareness on how toxic behavior in relationships is never 'normal' or 'fine'. When the person you're in a relationship with manipulates or gaslights you, it's really important to end that relationship. I wanted this song to center around taking the power back. A healthy relationship needs balance, and in the kind of abusive relationship this song centers around, the toxic partner had all of the power. It got to such an extent to where the narrator of the song felt lost and broken. This leads to the narrator ending the relationship, therefore taking some power back. When the toxic partner ultimately tries to get back with the narrator by saying how "they've changed", the narrator doesn't fall for their lies and tells them to get lost!" -Emmrose
Unheard of Gems
Review of "Thorns"
In Emmrose's new track "Thorns," the indie piano ballad releases the negative energy of the past; each verse acting as a farewell letter to someone she had previously held a grudge against.
The powerful piece is poetic in its simplicity and straight-forward approach. There are no gimmicks here; no lyrics that are up to personal interpretation. Emmrose is intentional with her songwriting and sings from her heart, and that honesty shines through. In the first verse, her voice is soft and elegant, almost hesitant, which makes the strong chorus stand out that much more-- it's like a wave of confidence has washed over her, and that strength remains consistent throughout the rest of the song. It feels like she's finally standing her ground and finding catharsis in this brave, vulnerable act of self-love and forgiveness.
Every verse is addressed to a different person and publicly releasing the resentment she once held against them, so pay close attention to those lyrics-- there's a unique story to be told, each one more palpable than the last. The verses are sung sweetly over a gorgeous piano, along with viola accompaniment by 15-year-old viola player Andrew Jensen.
"I wrote this song to finally move on from so many people. It was really necessary for me to write. Holding grudges holds me back from making closer connections to people," she writes. "I finally feel like I've begun healing. I'm not afraid anymore to meet new people and to make friends. I don't feel like my past is holding me down anymore. Where thorns were, now grow roses."
Emmrose wrote her very first song years ago in math class. Fast forward to 2019, when she released her debut EP "Hopeless Romantic," which features the fan-favorite track "Tonight." In 2021, she graduated from NYU's LaGuardia Performing Arts High School, then went on to study at The New School, where she continues to write and perform. "Thorns" is the title track to her upcoming sophomore EP.
Introducing: Emmrose - Thorns
LeFuturewave
Last week, singer-songwriter Emmrose released Thorns, the title track from her upcoming EP. With a production style reminiscent of her previous singles Ballad for the Boy Next Door and The Imposter, this heartfelt pop-acoustic composition will sound familiar to those who know her. There's much emotion in the writing, making it very moving.
When Thorns begins, it's driven by quiet piano work. Over time, more different sounds get added to create a richer tone. Vocals have a strong presence and are layered in the best way possible.
Emmrose explains the meaning behind the track as follows: "I wrote this song to finally move on from so many people. It was really necessary for me to write. Holding grudges holds me back from making closer connections to people, and I finally feel like I've begun healing. I'm not afraid anymore to meet new people and to make friends. I don't feel like my past is holding me down anymore."
Thorns only builds more hype around Emmrose's next project. This proves she stays ahead of the game at all times.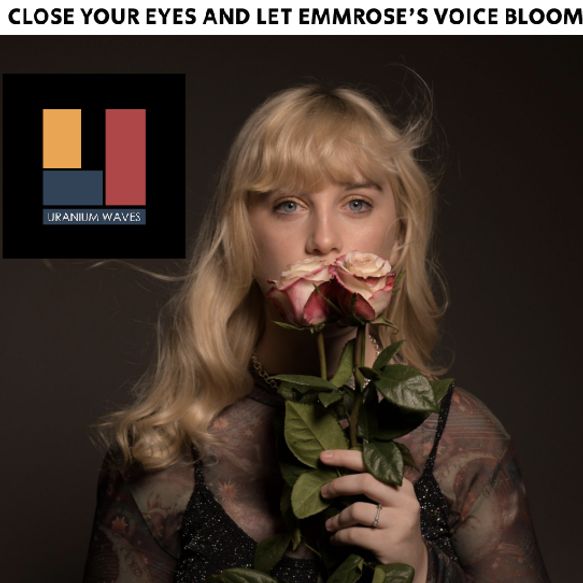 Close Your Eyes and Let Emmrose's Voice Bloom
Uranium Waves
Emmrose is more stunning than ever in this latest track "Thorns". Her voice is to be praised for its clear tremolo and the accuracy of the notes. This perfect performance does not lack style though. It is characterized by beautiful poetry that greatly participates in the chemistry between the artist and his audience.
Indeed, there is something in the tone of his voice, like a slightly brittle voice on the verge of tears, at the end of each trigger note that makes the song unique. This is how this feeling is transmitted to the listener in such an intuitive way. The artist explains to us that everyone has to search for himself, with the courage to be who we are.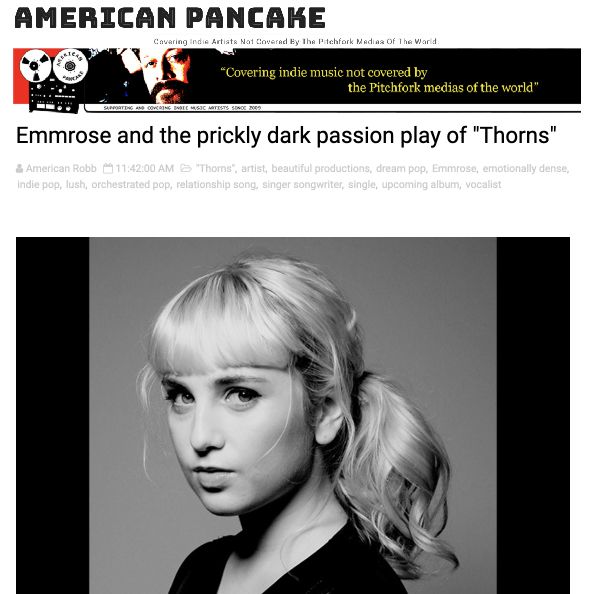 Emmrose and the prickly dark passion of "Thorns"
American Pancake
Swim inside the deep emotional vortex of "Thorns" by New York based Emmrose and you might get blissfully lost. The production here is textured and beautifully lush but broken too. The ballad moves on Fender Rhodes like tones. This decision instead of a crystal clear grand piano sound gives the song grit and a lovely bite. The tasteful subtle beats and elegant orchestration via strings and background vox is wonderfully tempered. No need for overly dramatic sonic embellishments. The star here is Emmrose's evocative beautiful croon with absorbing words and melodies. The song at it's core, a dark passion play about the sharp consequences of betrayal and maybe even the scars left by healing is a musical narrative on par with artists like Adele and unbelievably Emmrose is about half her age.

Press notes indicate:

Emmrose wrote her first song five years ago in math class. She is now a 17-year-old songwriter and performer based in New York City currently working on the follow-up to her first EP, "Hopeless Romantics", released in 2019. Despite quarantine, she continues to perform live streams for her fans (weekly), attends high school (remotely), and write songs during classes (frequently).

I am, quite frankly, stunned by Emmrose's poise and talent. I hope you check her music out and if you love what you hear support her by pushing play and purchasing her EP's and such. She will surely burn bright for years to come and we all need this kind of artistic cathartic warmth.

-Robb Donker Curtius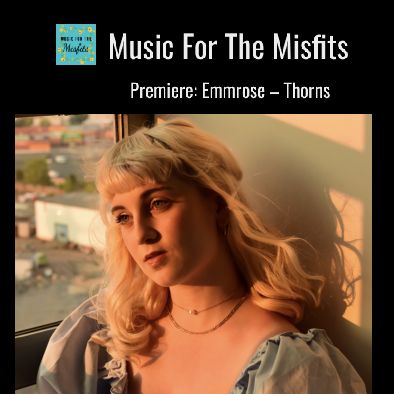 "Thorns" Premiere
Music for the Misfits
We have previously written and raved about alternative pop singer songwriter Emmrose who has truly captured our hearts and we are more than excited to be able to premiere her brand new single 'Thorns'! The single is due for release tomorrow but is now exclusively available on our website, right here.
Her beautifully sharp vocals lead us through this ballad-like single, a slow paced and pensive track with a simple soundscape that subtly dresses Emmrose's vocals. Her voice in combination with her prolific songwriting are what make her sound stand out. "Where thorns were now grow roses" is a line we simply won't get out of our head. 
'Thorns' is the title track of the upcoming EP, and the single is a heartfelt pop-acoustic song that talks about carrying resentment against people that aren't in your life anymore. Emmrose expands on the subject of the track: "I wrote this song to finally move on from so many people. It was really necessary for me to write. Holding grudges holds me back from making closer connections to people, and I finally feel like I've begun healing. I'm not afraid anymore to meet new people and to make friends. I don't feel like my past is holding me down anymore." 
That need to write something, to share a part of you and to shed old skin, is what helps us connect to artists. Besides, the lyrics Emmrose wrote describe a feeling we haven't previously been able to put into words, and it is a comforting and soothing feeling to know we are not alone in this. 'Thorns' is a blessing in disguise, a soft and mesmerising pop song that we just can't stop listening to!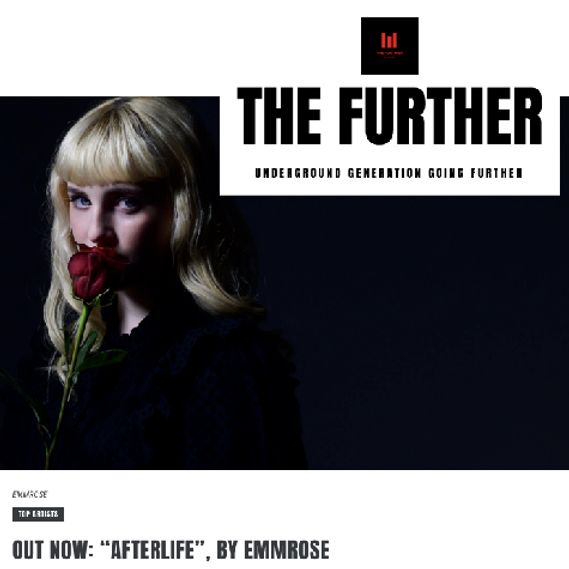 The Further
Afterlife by Emmrose
We receive hundreds of submissions everyday and the majority of those submissions often sound similar. Creativity is indeed rarer and rarer, that's why we are real radars. Pop artist Emmrose has a unique sound, rocked by a certain melancholy with her own artistic signature.
It's promising for a young artist to be able to deliver outstanding sonorities, different but appealing. Her latest single "Afterlife" illustrates our point. She makes a perfect impression thanks to a stylised pop sound with dark, west addictive atmosphere.
"Afterlife" is a beautiful song with a lot of replay value, and one that we would love to hear live. Emmrose is a singer with great and promising potential, and for this reason she integrates our list of the best artist of 2021: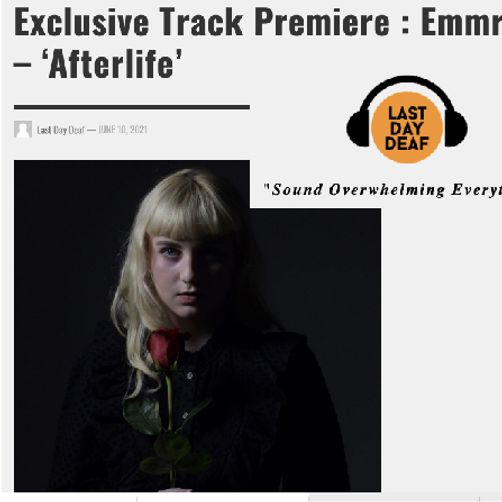 Premiere! Last Day Deaf
Emmrose "Afterlife"
Tonight we feel passionate to host the exclusive premiere on Last Day Deaf, of 17 y.o., New York-based singer-songwriter Emmrose's 'Afterlife'. Despite her young age, Emmrose is more than capable of unleashing a ton of feelings with her most compelling vocal performance to date, -avoiding the over-emotive 'trap'-, in this dark, twisted synth-pop, romance song. The bar is raised with the supernatural synth work and the definitive chorus that will directly seep into your brain. We wouldn't be surprised in any way, if this gem became the theme track for the next vampires/witches/supernatural related series on Netflix for the next season! Highly addictive…
"I was really trying to tap into the kind of toxic relationship where there is a really terrible power dynamic. The guy can be really possessive and controlling, to the point where you can be 100% reliant on someone who will ultimately hurt you. I was also thinking about some people I know, and how they almost want to be in relationships with such horrible people, and how they would pretty much do anything for this other person. It takes it a step further in my mind where it's like this supernatural romance, where it can actually be life or death situations in these kinds of books."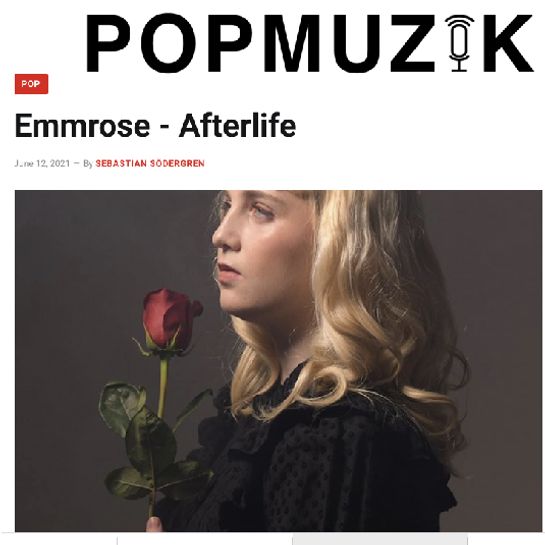 Pop Muzik Magazine
Emmrose "Afterlife"
In a suggestive darkness, the single Afterlife from alt-pop artist Emmrose appears. The concept and inspiration behind the song comes from a TV series the singer saw she adds: 
"The song was inspired by a TV show I saw. Richard (producer) and I wanted to write a cynical and romantic indie song. Here I channel a rather dark place thematically and texts are about an unhealthy supernatural relationship. As far as I know, Richard and I are not vampires or witches, so the song was not really taken from our lives. Although the lyrics were mostly inspired by a toxic relationship, we both really thought about the TV show's context and other supernatural romantic examples."
Just like the artist's inspiration, there is something cinematic about this song. It could very well be theme music for a dark drama about supernatural beings. The soundscape is bloated and draws one into mystery that can really be touched. Add to that Emmrose's magical voice which is as mesmerizing as beautifully fragile and we get a really powerful song in Afterlife . 
Funny fact is that the artist wrote his first song as a 17-year-old in math class. Enough because math is a watershed, but it is definitely clear that promising Emmrose is more of a visionary and creative individual than tied to numbers. With most acclaimed singles and EPs, she is an artist worth keeping an eye on. You hear the new Afterlife here. 
CLOUT MAGAZINE
Emmrose "Afterlife"
NEW YORK SINGER-SONGWRITER EMMROSE SHINES ON BROODING, DARK-POP RELEASE 'AFTERLIFE'
THE TRACK'S UNEASY MARRIAGE OF ROMANCE AND HORROR MAKES FOR SOMETHING UNIQUELY ENGAGING.
Immediately on 'Afterlife', you can feel the dark and ominous tone bleeding out of the sound, as it creeps up on you and draws you in to its supernatural world. The latest release from Emmrose excels in its ability to feel as uniquely rousing and satisfying as it does macabre, creating an uneasy middle-ground that sticks out as a wonderfully memorable experience.
From toxic relationships to supernatural romances, the track blurs the line between fantasy and reality and this uneasy marriage creates a dynamic that feels unlike anything else on either side of the fence. A really interesting and often moving piece of work.