NEW YORK CITY INDIE POP ARTIST EMMROSE CONTINUES TO SHOW OFF HER CATCHY AND RELATABLE APPEAL ON 'COFFEE AND COMMITMENT'
Clout Magazine Premiere
The affable and relatable nature of Emmrose and her sound has made the artist something of a refuge for young people and anybody who resonates with the down-to-earth appeal of her style.
The latest adventure from the artist is her upcoming new single 'Coffee and Commitment', a defiant push-back against dead end relationships and people only planning to stick around for the short term. There is a really infectious energy that is felt throughout the track, and Emmrose's fun, guitar-driven sound feels as vibrant and full of life as ever on the release. Whether it is the grounded earnesty of her lyrics or the engaging buzz of her sound that draws you towards Emmrose, this track is another in a long line of reasons why the artist is such a special and lauded talent.
"I was inspired by the idea of coffee vs. dinner, where grabbing a coffee can be so casual, it's not a sign of a serious relationship, and dinner on the other hand is." Emmrose says of the track. "I feel like a lot of people just want things to be casual because of their fear of commitment, and it hurts everyone around them in the process."
Emmrose moves on from a relationship on "Coffee and Commitment"
Melodic Mag
Instead of multiplying and dividing, Emmrose was using her time in math class to make her first pop song.  A couple years after creating that math class bop, Emmrostook her music outside of the classroom and released her debut EP, Hopeless Romantics.  The project ended up winning Best Pop Album at the 2020 WAM Awards, which was just the start of what was to come.  The track "Five Months" from the EP went on to be featured in the opening scene of the indie film Searching for the Wave, and last year's single "Waitlisted" made it onto an episode of MTV's Teen Mom, leading fans to wonder what 2022 would bring next for Emmrose.  So far this year, she has been busy releasing one single after another, leading up to her latest "Coffee and Commitment."
Switching things up from her more mellow tracks, Emmrose gives us a bit of indie pop with "Coffee and Commitment."  The vivid, guitar-driven production sets the tone for this celebratory single, which is about getting out of a dead-end relationship.  With her rousing vocals, Emmrose sings, "It was over a cup of coffee you told me let's just be friends" and "If we were for real, you'd work on yourself."  In the end, she asks, "Can't you see you're hopeless?" hoping that this will inspire a change.  You can listen below.
Giving us more details about the single, Emmrose shares,
"I wrote the song about relationships that are going nowhere.  Relationships when they don't want to take you out to dinner, you just grab a coffee.  They only text you when they're 'lonely,' though they'll never go out of their way for you – you know that they'll never commit to a full-on relationship, even if that's what you want.  I wish I had the guts to write this song a few years ago when I was totally experiencing this exact situation with a guy." 
Review: "Coffee and Commitment" - Emmrose
Pop Passion Magazine
Indie pop has only grown by the numbers since the 90's and mid 2000s. Singer Emmrose merges both the old and new in her latest single "Coffee and Commitment"; where she tells all about a relationship with someone noncommittal and evasive. This song not only feels nostalgic, but it reintroduces the classic alt/indie pop sound to younger listeners unfamiliar to such. In all honesty, It's easy to imagine "Coffee and Commitment" becoming the latest love anthem for the current and upcoming new year. 
"Coffee and Commitment" is the epitome of a "situationship" song. Being let on by someone whose real intent is to use you for their benefit, is a hurtful testimony that singer Emmrose conveys stunningly. Emmrose also goes into depth with her inspiration and personal meaning behind the song on her Spotify page. According to the singer: "The song isn't about giving up on love, it's about moving on. There's no point pining after someone who will never commit to something real." The truth behind her statement can be felt lyrically as well as emotionally. Relationships take time, effort, and vulnerability to be uniquely crafted into something beautiful for each person. "Coffee and Commitment" speaks boldly about no longer tolerating the wishy-washy feelings that result in the singer being constantly let on. This song makes listeners feel empowered as they also discover the importance of standing up for yourself and your emotions.
Emmrose is a NY based singer-songwriter with over 9k monthly Spotify listeners. Her most popular songs include "Tonight'', "It Takes Me Back", and "Thorns"-- her music garnering well over 1m+ streams on the Spotify platform alone. Emmrose's unique style and artistic abilities takes a refreshing and much-needed spin on the pop industry/genre. We hope to hear more beautiful music from this artist in the future! Follow her socials below to stay in touch.
Single Review: The Feeling's Mutual by Emmrose
Tongue Tied Magazine
Extremely heartfelt and revengeful, rising singer Emmrose has released her latest single "The Feeling's Mutual" 
After Emmrose has released a successful series of tracks this year, her gentle and mesmerizing voice is addictive. Her latest single "The Feeling's Mutual" is what she describes as a "friendship breakup… I wrote 'The Feeling's Mutual' shortly after the friendship had ended." 
An unique angle on the typical breakup song, "The Feeling's Mutual" is highly relatable and a beautiful piece. One of the most amazing parts of the track is the bridge that is fast-paced and highly emotional, similar to racing of thoughts. Emmrose's true talent shines in her lyrics, conveying deeply complex emotions through her words beautifully. Her indescribable voice carries the melody beautifully throughout the track as Emmrose powerful sings, "Its not fair that you can hate me, and say that you care". 
Emmrose continues to make addicting tracks that confront dynamic emotions, while containing catchy beats. As she continues to rise, we can't wait to see what she does next in her career. 
New Music: Emmrose – The Feeling's Mutual
York Calling
New York, USA-based artist Emmrose has featured on our blog a couple of times before. I've always been captivated by her intimate style and her ability to articulate emotions and relationships in her music. Her latest speaks of a toxic friendship. It's called The Feeling's Mutual.
The Feeling's Mutual is a dreamy piece of pop akin to Olivia Rodrigo and Melanie Martinez. It builds slowly through its understated first verse to a dramatic chorus where Emmrose's vocals are at their most powerful and passionate. It's a real knock out blow and the sense of catharsis that she must have got from writing this track is palpable.
Following on from Brave New World and The Gallows, The Feeling's Mutual shows yet another dimension of Emmrose's sound. The more I hear from her, the more impressed I am. You can listen to the track below.
Indiemono ICON: INDIE WOMEN TALENT
Today, March 8th, International Women's Day, we would like to celebrate a few women-identifying artists leaving their mark on the indie music scene ❤️
Emmrose is a seventeen-year-old singer-songwriter living in New York City. She has been writing, recording, and performing her original music since the age of fourteen.
Born and raised in lower Manhattan, Emmrose began playing piano at the age of eight.  "I was at Sunday School when I came across a brown, upright piano sitting alone in a room. I remember sitting alone and playing an A-minor chord. I didn't know what that was yet. I played some other chords and before I knew it, I had written my first instrumental song."  
The Feeling's Mutual // Emmrose
Nexus Music blog: Track Review
Whenever I listen to singer-songwriter Emmrose's music I am flabbergasted at how someone so young could produce something so sophisticated. It is as if she combines innocence and maturity to create evocative music for all audiences. Since her debut EP Hopeless Romantics (released in 2020), Emmrose has released 15 singles, won the Best Pop Album award in the 2020 WAM Awards, had music appear in films and reality shows, been added to numerous playlists, and featured on various international publications. The latest addition to her well-received discography is 'The Feeling's Mutual'. 
Following her track 'The Gallows', Emmrose adopts a powerful pop ballad style with her single 'The Feeling's Mutual'. Interestingly enough, Emmrose inserts an indie-pop movement within the melody highlighting her versatility as well as the complexity of the message. Written as a tribute to a "friendship breakup", the single exposes feelings of anger, vengefulness and an overall acceptance that the toxic friendship is over – but she does have a "well take that" moment singing "the feeling's mutual".
"A little over a year ago, I was going through a really big rough patch with a close friend of mine until I realised that she was only making my life worse and that I didn't want us to be friends anymore. All she would ever do was criticise me and tell me that I was a bad person…I was at the recording studio and my friend just started sending me rude messages about my music. At that point, I had had enough…it feels really good to have written a song about it and to finally let it go." – Emmrose on 'The Feeling's Mutual'
It is sad to say that there are hundreds of toxic friendships out there and often the root cause is jealousy. Emmrose's 'The Feeling's Mutual' looks at the difficulties of ending a toxic friendship and coming out on the other side smarter, happier and full of life.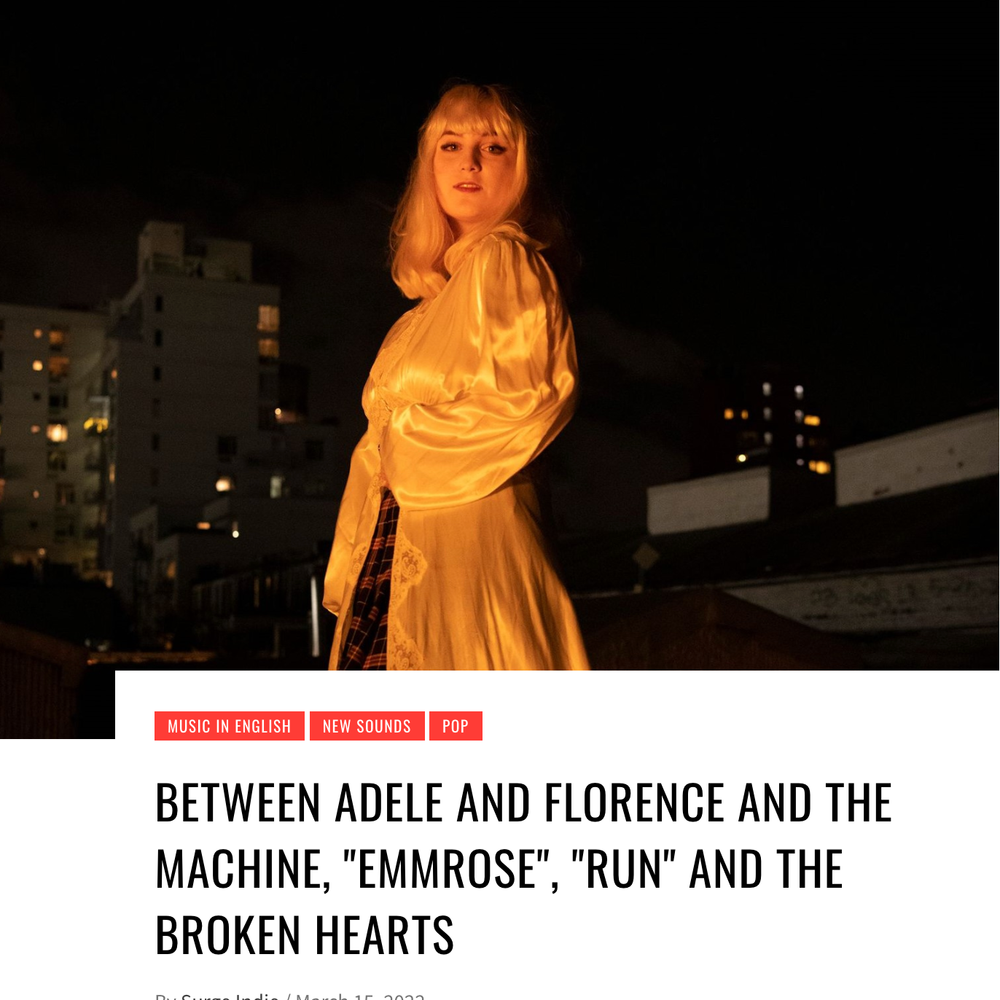 BETWEEN ADELE AND FLORENCE AND THE MACHINE, "EMMROSE", "RUN" AND THE BROKEN HEARTS
By Surge Indie / March 15, 2022
Emmrose is an eighteen-year-old songwriter who in 2020 presented us with her EP "Hopeless Romantics" , even making it to MTV 's Teen Mom .
His universe is between Adele and Florence and the Machine, between classic minimalist pop and progressive folk, with soulful melodies and sparkling energy.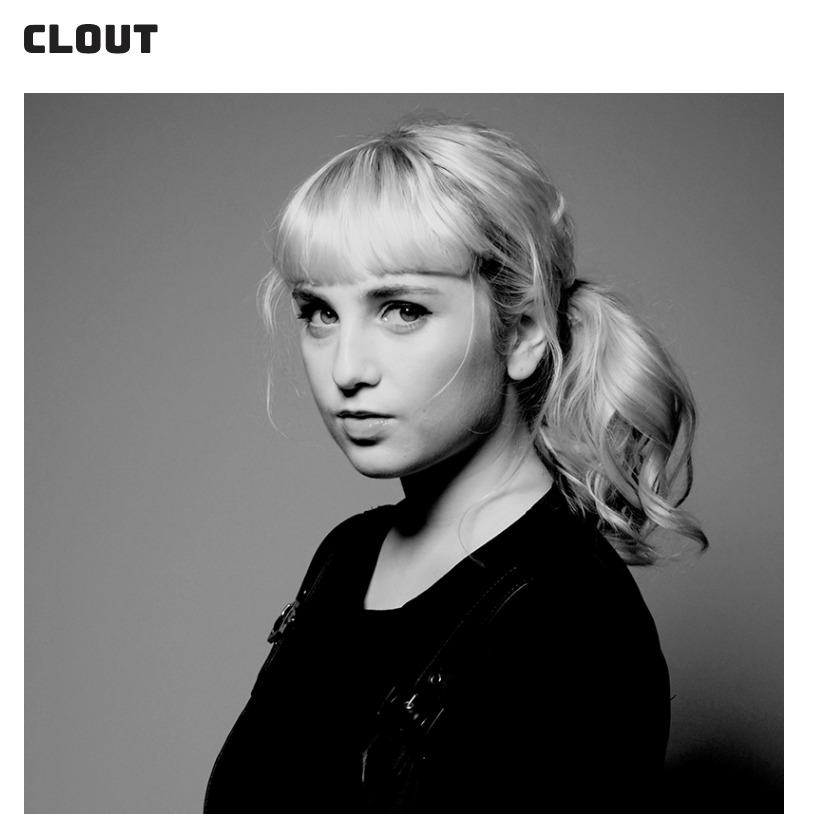 "Run" URGES PEOPLE TRAPPED IN ABUSIVE RELATIONSHIPS TO SET THEMSELVES FREE.
Emmrose has been an artist who has been on our radar for a while now, and her thoughtful and powerful brand of indie pop makes her an easy person to root for.
The latest addition to her catalogue is the empowering new release 'Run'. An anthem for anybody who is or has been trapped in toxic or abusive relationships. There is a heightened sense of intensity both within the music and the lyrics that really establishes this sense of urgency and immediacy, imploring people to take their power back and do it now. The track itself is a rousing and engaging listen, boasting a synth-heavy, electronic sound that feels as captivating and memorable as it does cathartic.
"Run" was such an empowering song to write. I wanted to create a break-up anthem for anyone who had been through or was currently in an abusive relationship. I wanted "Run" to be inspiring for my listeners by bringing awareness on how toxic behavior in relationships is never 'normal' or 'fine'. When the person you're in a relationship with manipulates or gaslights you, it's really important to end that relationship. I wanted this song to center around taking the power back. A healthy relationship needs balance, and in the kind of abusive relationship this song centers around, the toxic partner had all of the power. It got to such an extent to where the narrator of the song felt lost and broken. This leads to the narrator ending the relationship, therefore taking some power back. When the toxic partner ultimately tries to get back with the narrator by saying how "they've changed", the narrator doesn't fall for their lies and tells them to get lost!" -Emmrose
Unheard of Gems
Review of "Thorns"
In Emmrose's new track "Thorns," the indie piano ballad releases the negative energy of the past; each verse acting as a farewell letter to someone she had previously held a grudge against.
The powerful piece is poetic in its simplicity and straight-forward approach. There are no gimmicks here; no lyrics that are up to personal interpretation. Emmrose is intentional with her songwriting and sings from her heart, and that honesty shines through. In the first verse, her voice is soft and elegant, almost hesitant, which makes the strong chorus stand out that much more-- it's like a wave of confidence has washed over her, and that strength remains consistent throughout the rest of the song. It feels like she's finally standing her ground and finding catharsis in this brave, vulnerable act of self-love and forgiveness.
Every verse is addressed to a different person and publicly releasing the resentment she once held against them, so pay close attention to those lyrics-- there's a unique story to be told, each one more palpable than the last. The verses are sung sweetly over a gorgeous piano, along with viola accompaniment by 15-year-old viola player Andrew Jensen.
"I wrote this song to finally move on from so many people. It was really necessary for me to write. Holding grudges holds me back from making closer connections to people," she writes. "I finally feel like I've begun healing. I'm not afraid anymore to meet new people and to make friends. I don't feel like my past is holding me down anymore. Where thorns were, now grow roses."
Emmrose wrote her very first song years ago in math class. Fast forward to 2019, when she released her debut EP "Hopeless Romantic," which features the fan-favorite track "Tonight." In 2021, she graduated from NYU's LaGuardia Performing Arts High School, then went on to study at The New School, where she continues to write and perform. "Thorns" is the title track to her upcoming sophomore EP.
Introducing: Emmrose - Thorns
LeFuturewave
Last week, singer-songwriter Emmrose released Thorns, the title track from her upcoming EP. With a production style reminiscent of her previous singles Ballad for the Boy Next Door and The Imposter, this heartfelt pop-acoustic composition will sound familiar to those who know her. There's much emotion in the writing, making it very moving.
When Thorns begins, it's driven by quiet piano work. Over time, more different sounds get added to create a richer tone. Vocals have a strong presence and are layered in the best way possible.
Emmrose explains the meaning behind the track as follows: "I wrote this song to finally move on from so many people. It was really necessary for me to write. Holding grudges holds me back from making closer connections to people, and I finally feel like I've begun healing. I'm not afraid anymore to meet new people and to make friends. I don't feel like my past is holding me down anymore."
Thorns only builds more hype around Emmrose's next project. This proves she stays ahead of the game at all times.